Gantom DMX 5 Pin to TRS & DC Barrel Wiring Diagram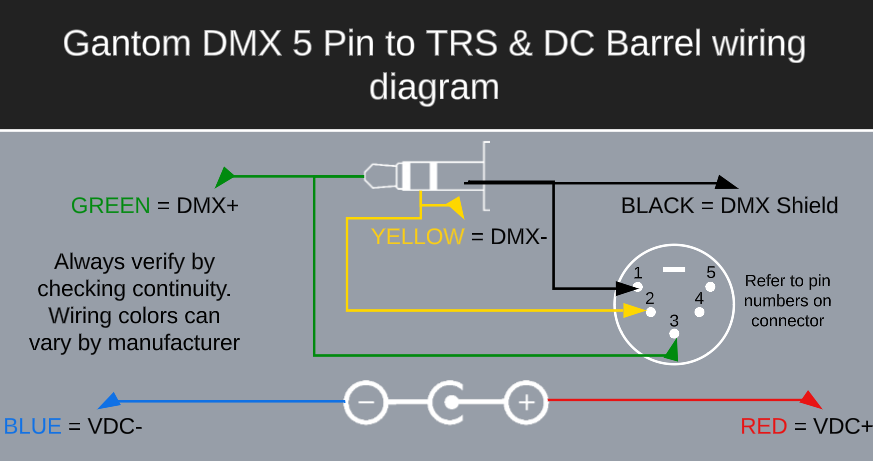 Related Articles

Gantom FAQs

What voltage should I use with Gantom fixtures? All of our DMX controllable spotlights take 12-24 VDC. Non-DMX units are either 12VDC ONLY, or 12-24VDC. Each fixture will have their input voltage range listed on the packaging or the data sheet. What ...

Gantom Pro Cable Pinout

Trunk Cable Wire Color Wire Gauge Pinout Red 16 AWG Power VDC + Blue 16 AWG Power GND Green 22 AWG DMX + Yellow 22 AWG DMX - Shield Shield DMX COM Branch Cable Wire Color Wire Gauge Pinout Red 22 AWG Power VDC + Blue 22 AWG Power ...

Ping Trim Kit Installation Guide

PM67 - Ping Swivel Mount w/Collar for 30mm and 40mm Fixtures - Anodized Black Finish Compatible products: Precision Z Spot and Flood (DMX), Gantom iQ(x), Gantom DMX V2 Mounting Hole Ø 80mm (3.15") - 90mm (3.5") Mounting Depth - Gantom DMX V2 80mm min ...

Is ColorPiano still available?

We have discontinued ColorPiano fixtures. The demand for the product wasn't where we needed it to be to make the product viable. We are making a similar product alternative based on DMX, which we're aiming at a 2023 release time. If you have ...

Troubleshooting Tips

My fixture is blinking. Gantom fixtures have a variety of blinks. All DMX fixtures will flash a sequence of colored blinks to indicate it's address when power is cycled (blue = 1s, green = 10s, red = 100s) Some fixtures have built in effects macros. ...